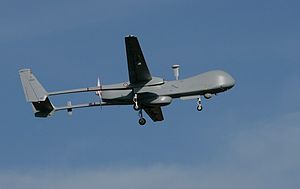 On October 15, the Harfang Medium-Altitude Long Endurance (MALE) unmanned aircraft logged its 5,000th combat flight hour. All of these hours were flown in Afghanistan and over Libya, and amount to about 560 sorties.
Harfang has operated in Afghanistan since February 2009 in support of French and foreign forces of the international coalition. It carries out, by day and night, a wide range of missions such as the surveillance of villages, convoy escort, search for improvised explosive devices (IEDs) as well as the distribution of intelligence data to ground troops.
During Operation Harmattan carried out over Libya, Harfang was also deployed to Sigonella air base, in Sicily, from which it flew its first operational sortie on August 24. Its role was reconnaissance and surveillance of Libyan territory.