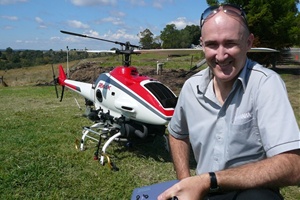 Graham Fuller of Farm Weekly Australia reports from a flying demo event.
RAPIDLY-emerging unmanned aerial vehicle (UAV) technology took a giant step forward last week with flying demonstrations of the latest hardware attracting rural interest at a Marburg field day just west of Brisbane.
The deployment of these systems is well documented by the military but the spotlight is now focusing on their relevance to agricultural and horticultural industries where they are poised to become more commonplace down-the-track.
Interestingly, Yamaha's unmanned RMax helicopters buck this trend with the company liaising with the Japanese government to come up with a new way of managing small acreage farms in response to concerns about the country's ageing rural population.
Such has been the interest in these machines that some 2,400 units are currently operating in the country, according to Yamaha's (Sky Division) business development manager, Liam Quigley.
"Australia is the first major market outside of Japan," he said.
"Applications here will be for ag spraying, also weed control – which will be the big one since the concentration of chemical can be a lot higher, making it a lot more effective," Liam Quigley added.
As well, the Rmax's ability to perform in "dirty, dumb and dangerous" situations likely to endanger the life of a pilot looks to be one of its biggest appeals – especially when operating near low-slung power lines.
Yamaha expects interest in Australia to centre on small, steep acreages, also difficult access situations followed by tree crops and coastal spraying programmes.
Contractors almost certainly will rent the helicopters from Yamaha since they will be better-placed to maximise their use throughout the year.
Top of mind questions to date have centered on the helicopter's payload (28kg), also how potential users can access the technology with an on-board GPS ensuring the helicopter can precisely target specific locations.
"In terms of cost to run, you are looking at about six litres of two-stroke (fuel) an hour which is pretty spectacular when compared with a manned helicopter," Liam Quigley said.
Read the rest of the article