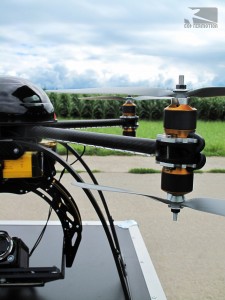 Coptermotion- the flying camera system is a VTOL (Vertical take off & landing) miniature multi rotor helicopter designed especially for professional aerial video purposes and photography.
The Coptermotion design utilizes eight main brushless electric engines which allow the aircraft to hover extremely steadily in high winds and turbulent conditions. Its maneuverability is unsurpassed by using differential thrust.
The thrust provides 216 Newton lifting power (22 kg = 48.4 lbs), enabling Coptermotion to carry heavier, more intelligent, advanced payloads. The ease of control comes first and gives everyone with a little training the opportunity to steer the helicopter. There is little or no prior knowledge required to be airborne in no time.  Coptermotion sensors ensure that the aircraft will remain stable at all times.

Coptermotion, the flying camera system
from
Coptermotion
on
Vimeo
.

Coptermotion provides room to carry high quality digital DSLR cameras such as canon 5D Mark II or 7D and various 1080p video cameras.
The Coptermotion can be carried as normal baggage providing for easy transportation. Everything comes packed in a strong flight case with room for base station, Helicopter, 10 batteries, cables, chargers, camera, spare propellers, etc…
Advanced base station
The base station intelligent control monitors all the micro processors onboard of the aircraft and provides an OSD (On screen Display) of all telemetry needed to keep track of all essential data.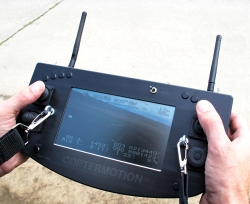 Height, distance, battery status, flight heading, climb rate, latitude-longitude, etc…, is displayed on top of the live video. The pilot is totally in control. Four intuitive control buttons make it real easy to control the helicopter while remaining full control of the camera movement at the same time, this saves you a second operator and is a real money saving feature. One pilot can easily control both the movement of the aircraft and change camera options. Nine buttons are at your disposal to control any camera setting you want.
Changing diafragma, iso values, shutterspeed, record on/off, etc….is al done by the press of a button.Our long endurance base station (optional) provides a crystal clear live video feed without any disturbance, flicker or noise.
The video out can be used for a live display on a second monitor, projection screen video goggles or any output that suit your needs.Our mobile wireless video receivers provide possibilities to connect to any output of your choice.
Full HD 1080p zero delay video transmission (optional) is offered to companies willing to have sports events live broadcasted with a video-feed in excellent quality.
Onboard sensors:
1 barometric pressure sensor, 13 IC current sensors, 3 accelerometers roll- pitch- yaw(X,Y,Z), 3 gyros, 3 MAG (magnetometors), 8 thermometers, 1 gps module, optical out sensor for video, flight controller, AHPS (altitude hold and positioning system)
By flying a Coptermotion system you extend the possibilities of any video crane worldwide used.