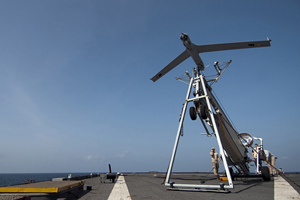 Canada is deploying unmanned surveillance aircraft to the High Arctic for the first time, as part of the largest military exercise ever in the Far North.
Catapult-launched Boeing ScanEagle unarmed drones similar to those used by the Canadian army for surveillance in Afghanistan are to assist in a major air disaster scenario in an extremely remote area near Resolute, which is about 3,000 kilometres north of Ottawa. They will also assist in a major maritime disaster exercise being overseen by the Canadian Coast Guard in waters between Canada and Greenland.
"It's precedent setting. There will be small UAVs (unmanned aerial vehicles) in the High Arctic," Defence Minister Peter MacKay said in an interview. "They are a harbinger of things to come.
"This will be eyes-on. We can link satellite capability to UAVs to help find people and crash sites. UAVs proved invaluable in Afghanistan and have a great value in applications in the North."
Operation Nanook, which is to last more than three weeks, begins Friday when three Canadian naval vessels led by the frigate, HMCS St. John's, set out from Newfoundland for Baffin Bay where they will rendezvous with a Canadian Coast Guard icebreaker.
Read more: http://www.canada.com/news/canada-in-afghanistan/Canada+deploys+unmanned+drones+Arctic+military+exercise/5207018/story.html#ixzz1U86TP9Jn