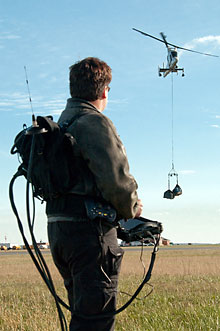 You heard it here first folks! According to Popular Mechanics:-
The Navy is considering using experimental unmanned helicopters to assist Japan in recovering from its 9.0 earthquake. A spokesman for Lockheed Martin says meetings are underway that could result in enlisting the unmanned K-MAX helicopter in disaster relief. These craft could deliver cargo to hard-to-reach places—or even to subdue the out-of-control reactors in Japan.
Still, there are several things that could hamper the deployment of these experimental UAVs. One is personnel safety: Even though K-MAX can be operated from 50 miles away, Lockheed and the Marines won't lightly choose to send people in harm's way. (The U.S. Embassy in Japan has already evacuated civilian personnel to at least 50 miles away from the reactors because of increasing radiation.) Another consideration is electromagnetic interference—conditions above the reactor could play havoc with the helicopter's controls. Marines on the scene in Japan must also authorize the transfer—and they may not have the time, inclination or logistical support to host an experimental aircraft.
Public affairs officials at U.S. Pacific Command say they have not yet been told of any suggestion to ship the UAVs to Japan.
Last week we thought that one of the new breed of large autonomous helicopters hitting the market might be a good thing to send. Our feeling is they are just a little too green perhaps to send. But who knows we could be wrong!