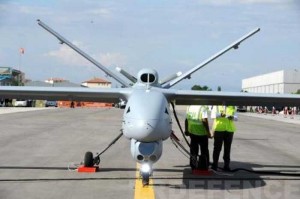 Turkey's first medium-altitude, long-endurance UAV made its first test flight Dec. 31.
Dubbed the ANKA, the 600-kilogram UAV flew for 14 minutes, said officials from Turkish Aerospace Industries (TAI), Turkey's main aerospace company and the UAV's developer.
They said a total of 180 engineers have been working since 2005 on the ANKA, which was unveiled last summer.
Powered by a 155-horsepower diesel engine, the UAV has a wingspan of 17.3 meters and a composite body eight meters long.
TAI officials said the ANKA would eventually fly up to 23,000 feet for 23 hours.
Turkey has made smaller UAVs, but this is the first drone in the MALE category. Turkish procurement officials aim at full self-sufficiency over the next several years after having bought Israeli-made Heron MALE drones last year.
In the meantime, Turkey also is seeking to buy armed MQ-9 Reaper drones from the United States, but it has not received U.S. approval for the sale.