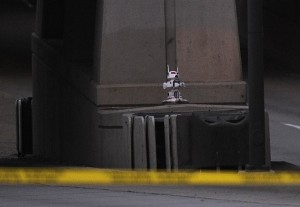 The Denver post reports
A robot met its end near Coors Field tonight when the Denver Police Department Bomb Squad detonated the "suspicious object," bringing to an end the hours-long standoff between police and the approximately eight-inch tall figurine.
Denver Police Spokesman Matt Murray said that a citizen called police at 3:27 p.m. to report the presence of the plastic white toy robot cemented to the base of a pillar supporting a footbridge near the intersection of 20th and Wazee streets. Police closed 20th Street between Blake Street and Chestnut Place, but did let a few people past the police tape to retreive cars parked in nearby lots. Nobody was allowed within about 100 yards of the robot
Read more:Toy robot detours traffic near Coors Field – The Denver Posthttp://www.denverpost.com/news/ci_16752786#ixzz16yg770lz
One wonders what would have happened if those officers saw the crew creating this piece of first person video.