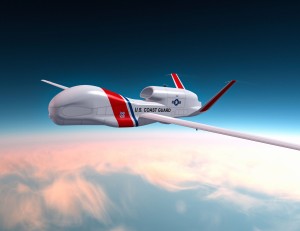 Very much waiting at in the wings and last to the party Matthew Cox writes on the Coastguard Forum about the problems facing the US Coastguard and its UAS program.
Drug dealers and pirates beware: The Coast Guard may one day have its own unmanned aircraft for silent surveillance of the sea. By 2016, the Coast Guard wants its cutter ships outfitted with unmanned aerial systems (UAS) that are specially equipped to patrol large areas of open water in support of drug interdiction and other law enforcement missions.
The UAS has become a battlefield necessity to U.S. military units in Iraq and Afghanistan. These tiny, remotepiloted aircraft can observe enemy activity and transmit real-time intelligence over long distances to unit command centers. Such capabilities often directly affect how leaders deploy troops and plan future operations.
The success of UAS in ground have prompted America's sea services to begin developing versions more suited for maritime operations. The Coast Guard wants to use land and cutter-based UAS to help the service's manned, maritime patrol aircraft keep up with a timeconsuming air surveillance mission.
"Our manned aircraft [fleet] only gets us so far; it doesn't quite meet that demand," said Lieutenant Commander Jeff Vajda, UAS platform manager for the Coast Guard's Office of Aviation Forces. To combat this shortcoming, Coast Guard officials have partnered with Navy and the Department of Homeland Security's UAS programs to develop joint requirements and take advantage of the lessons that emerge from operational testing.
FIRE SCOUT
Northrop Grumman Aerospace Systems' MQ-8B Fire Scout vertical take-off and landing unmanned aerial system, currently being developed for the Navy, is one possible solution to the Coast Guard's search for a cutter-based UAS.
It resembles a miniature helicopter and is scheduled for fielding in the spring of 2011. The program's operational evaluation will begin this fall when the Navy will outfit one of its guided-missile frigates with two Fire Scouts. Early in 2011, the ship will begin a six-month deployment with both Fire Scouts aboard, according to John Van Brabant, business development manager for Northrop's Maritime Fire Scout program.
The Fire Scout is equipped with electro-optical/infrared sensors and will have a radar package suited for maritime operations later this year, Van Brabant said. It's also equipped with the Coastal Battlefield Reconnaissance and Analysis system, or COBRA, for detecting mines in hidden in the surf.
The Fire Scout also has an automatic identification system that allows it to pick up signals transmitted by friendly merchant ships all over the world. "You can immediately sort out who are the good guys and then go sort out who are the potential bad guys," Van Brabant said. The Fire Scout has a range of 110 nautical miles and a max altitude of 20,000 feet.
Northrop Grumman officials held a demonstration for the Coast Guard in October to show off its Fire Scout equipped with the maritime sensor package. The demo took place over two days with the Fire Scout flying over the Chesapeake Bay, detecting small boats and identifying targets of interest, Van Brabant said.
"That was to demonstrate to them that the maritime sensors can be integrated on the airplane, flown safely and operated successfully to support a Coast Guard type mission," he said. "Fire Scout will give them almost seven-and-a-half hours on a standard day; that will allow them to see larger pieces of the ocean."
More recently, Fire Scout participated in a real-world Coast Guard counternarcotics mission in April during Navy testing aboard the USS McInerney in the eastern Pacific. During a test flight, Fire Scout's sensors detected a fast-moving boat often used by local drug traffickers. Fire Scout stayed undetected while monitoring the drug traffickers' activities and sent live video back to the frigate. A Coast Guard law enforcement detachment stationed aboard the frigate moved in on the boat when it stopped to refuel and captured 60 kilograms of cocaine, according to the Navy's 4th Fleet public affairs office.
"Part of the tactics for drug runners is they stop and listen for helicopters," Van Brabant said. "Fire Scout was far enough away that they couldn't hear it. Fire Scout maintained a track for close to four hours, and they never detected the aircraft. That was a big win for the team."
SCANEAGLE
Insitu Inc., a subsidiary of The Boeing Company, may also be able to meet the Coast Guard's cutter-based UAS requirements with its venerable ScanEagle and new Integrator aircraft.
ScanEagle has served the Navy and Marine Corps since 2004. It carries a high-resolution electro-optic/infrared camera and an automatic identification system for maritime vessel identification.
The ScanEagle is launched by a pneumatic catapult, has a maximum speed of 80 knots and can fly up to 19,500 feet. To date, the ScanEagle has logged more than 340,000 combat flight hours.
Insitu announced in late July that Naval Air Systems Command awarded the company a Small Tactical Unmanned Air System/Tier II contract to produce its new Integrator.
The company has partnered with the Harris Corporation, Corsair Engineering and Black Ram Engineering Services and will begin a 24-month engineering, manufacturing and development phase to build and test its Integrator UAS, according to a recent press release. Integrator has commonality with ScanEagle, but it has a larger payload and it's more powerful with a maximum speed of 90 knots. Integrator is scheduled to undergo two operational assessments. The first will determine if five Integrators could be fielded in fiscal 2011. The second will support low-rate initial production of two systems, one each for the Navy and Marine Corps. Initial operating capability is expected by the end of fiscal 2013. Once the Coast Guard selects a cutter-based UAS, the plan is to put two of these UAS aboard each of its eight national security cutters, Vajda said.
The Coast Guard also has a tentative plan to buy 25 off-shore patrol cutters. Each of these would be equipped with one cutter-based UAS, he said. The Coast Guard also wants a land-based UAS for patrolling costal areas to take some of the strain off of its cutters and manned, patrol aircraft.
"We are mostly looking at it for law enforcement—alien migration and drug interdictions at sea," Vajda said.
GUARDIAN
General Atomics Aeronautical Systems Inc. has come up with a version of its battlefield- proven Predator unmanned aircraft that may fill this niche. The Department of Homeland Security and U.S. Customs and Border Protection is currently flying what is known as the Guardian at Cape Canaveral Air Force Station, Fla.
"It just completed the operational test and evaluation and now it is starting to conduct trial, real-world missions off the coast of Florida," said Scott Dann, director of strategic development at General Atomics Aeronautical Systems Inc.
The Guardian is a Predator B with a special pod mounted under the nose of the aircraft. The pod contains an electricaloptical/ infrared video camera and maritime surface-search radar. The pod can be configured to any Predator in single day, converting it to a maritime asset, Dann said.
"That adds a huge degree of flexibility and affordability," he said. The Guardian is also equipped with a maritime automatic identification system.
"If someone isn't broadcasting, they become a suspicious target," Dann said. "What you do is fly over them and monitor them with the video camera. We can use that at 19,000 feet and you can get a slant range of 6 to 10 miles out. We are usually undetectable because we fly so high."
The Guardian can reach an altitude of 50,000 feet, fly for 30 hours and scan out to 120 miles. The craft has a range of 2,800 nautical miles. The joint program falls under DHS, but also includes Customs and Border Protection and the Coast Guard, Dann said.
A second Guardian, being built for Customs and Border Protection, is scheduled to be delivered sometime over the next six months, Dann said. The CBP first employed the Predator B on the Southwestern border of the United States in 2005 and along the Northern border in 2009. The Predator was first fielded to the U.S. military in the late 1990s and has logged more than 400,000 flight hours. More than half of those hours have been flown during combat-area deployments to the Balkans, Southwest Asia and the Middle East.
Despite the program's history, the Coast Guard isn't ready to buy. The service is still in the "pre-acquisition and evaluation" phase but is gaining a lot of hands-on experience with the Guardian, said Dann, adding that Northrop Grumman has trained Coast Guard personnel to fly the aircraft. "Coast Guard pilots are flying them; they are actually flying missions," he said.
Despite the promising features of the Guardian, Coast Guard officials point out it has been a challenge to develop joint requirements with organizations that have different missions.
"There is a lot of overlap with the Navy and CBP, but our missions are more varied and our geographic locations are more varied," said Commander Tom Swanberg, the lead capability integrator for the Office of Aviation Forces.
One example of this is the Raytheon SeaVue Marine Search Radar on the Guardian, which is not designed to handle all of the Coast Guard missions, such as tracking the spread of the massive oil spill that recently dumped millions of gallons of crude into the Gulf waters, Vajda said. "The radar package on Guardian is suited for targets that are moving," he said. "Well oil doesn't move fast enough to register on the Guardian's radar. We would need to outfit these platforms with sensors that can support us. That is all part of pre-acquisition and research—to determine the best sensor package."
General Atomics officials maintain that the sensor pod on the Guardian is designed to fit any commercially available radar system. "The bottom line is that, in terms of a maritime unmanned aircraft system, the market has been waiting a very long time for something that is very capable and very affordable," Dann said. "This is a first. This is a game changer, and we are pretty excited."
FUNDING ISSUES
While the Coast Guard's strategy is in place, the money for this endeavor isn't, officials said, adding that they aren't sure when funding will be available for the UAS program. "That is the big question for our program right now," Vajda said.
The Coast Guard killed its vertical takeoff and landing unmanned aerial vehicle acquisition in June 2007 after internal analysis recommended program cancellation due to unresolved developmental risks and increased costs, according to a June 2009 DHS report. The $425 million program was a key component of the Coast Guard's Integrated Deepwater System contract with Integrated Coast Guard Systems. The $24 billion, 25-year acquisition program was designed to replace and modernize the Coast Guard's aging and deteriorating fleet of ships and aircraft.
The 2002 Deepwater contract specified the delivery of 69 VUAVs, with the first eight aircraft to be delivered in 2006. But the project did not receive funding in FY03 because the Deepwater program was not fully funded and available funds were used on higher priority projects. In addition, the VUAV project was only partially funded from FY04 through FY06.
Despite the setback, the Coast Guard still needs such an unmanned asset. Without it, the aerial surveillance capability of the national security cutter is reduced from 58,160 square nautical miles to 18,320 square nautical miles, a 68 percent reduction, the DHS report states.
"That is the reason we are in these partnerships, because it affords us the opportunity to gain the experience … to develop tactics, techniques, procedures and even policy so that when the resources do come and we can really go out on this on our own, all that foundation work is complete."