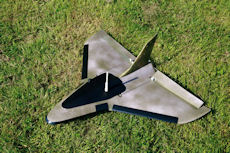 A fairly lack lustre airframe from a big company.
The Spy Arrow mini-UAV, an autonomous, affordable and surveillance system comprising a delta-winded miniature aircraft, carrying an EO payload and associated avionics to perform a short, autonomous mission over a pre-planned or user guided path.
The Spy Arrow transmits real-time video with geo-location points to provide the warfighter with ad-hoc surveillance and recce of an area of operation. Additional payloads considered for the robot are Chemical Biological, Radiological, Nuclear (CBRN) detectors.