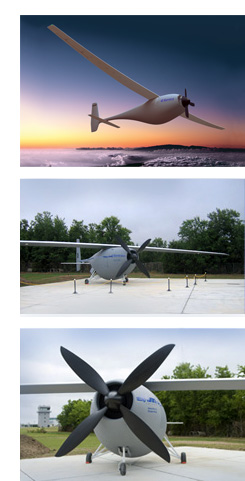 Aurora Flight Sciences has been awarded a contract by the United States Department of Defense to build an unmanned vehicle — the Orion Unmanned Aerial System — which is developed at Aurora's Columbus facility — for the Medium Altitude Global ISR and Communications program, Republican U.S. Sens. Roger Wicker and Thad Cochran announced today.
The vehicle, which reportedly can stay aloft for days at a time, has been under design and development for several years at Aurora's Columbus location, which currently employs about 60 engineers and technicians.
As a result of the contract, Aurora officials said employment at the facility likely will double in support of the program.
"This contract builds on Aurora's leading role in unmanned aerial vehicle development and will be another great opportunity to provide value to the Armed Services," said Aurora CEO John Langford. "We look forward to supporting (the Department of Defense) and working with the U.S. Air Force to deliver this innovative capability to the warfighter."
"Aurora and its Mississippi workforce represent a key industrial partner for our men and women at war," said Wicker. "This kind of next generation technology developed at Aurora provides our soldiers with more real-time information at an affordable cost."
"Aurora Flight Sciences now has an opportunity to provide the Defense Department with unmanned vehicle technologies that can greatly increase its surveillance and information-gathering capabilities," said Cochran, vice chairman of the Senate Defense Appropriations Subcommittee. "I believe this award to Aurora represents a recognition of the innovative and promising potential of high-tech products produced in Mississippi."
The Orion is a 135-foot wingspan, all-composite aircraft powered by twin diesel engines; the Orion can carry a payload of 1,000 pounds for endurance of over 120 hours at altitudes of up to 20,000 feet.
To be managed by the U.S. Air Force, MAGIC was established under the Department of Defense's Joint Capability Technology Development Program.