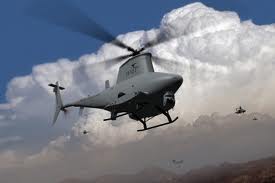 Well there is going to be lots more of this, a Fire Scout UAS took itself 23 miles through the NAS!  There are two versions RQ-8A based on the Schweizer 330, and MQ-8B is derived from the Schweizer 333. It was the newer MQ-8B that was said to go astray.
Navy operators lost control of an unmanned aircraft earlier this month and were unable to regain control before the aircraft entered restricted airspace around the U.S. capital. According to a Navy statement, the incident took place Aug. 2 when, about 75 minutes into a routine test flight, an MQ-8B Fire Scout unmanned helicopter operating out of the Patuxent River test facilities in southern Maryland lost its control link with ground operators. The aircraft then flew about 23 miles on a north-by-northwest course and entered the National Capital Region restricted airspace, part of the Air Defense Identification Zone surrounding Washington, D.C.
The New York times reports that it was a software fault that has resulted in the grounding of the fleet.
It begs the question of does the MQ 8B have a kill switch or were the operators confident of getting it back? No doubt they were in touch with air traffic so there were no issues in that regard. But if it did fly off range and they couldn't land or destroy it the story could have ended up far more embarrassingly, in a shoot down. Last year a rogue Reaper was shot down by a USAF fighter in Afghanistan. Just imagine that happening in Washington. Traditional aviators must be itching to be able to put a little drone cut out on the sides of their jets.