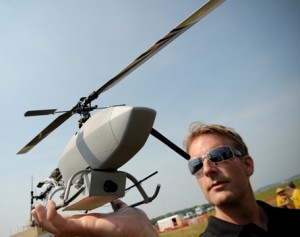 Denver, CO. – August 24, 2010.
Adaptive Flight demonstrated autonomous flight in a GPS-denied
environment with their Hornet Micro UAV at AUVSI. This state of the art,
and market first capability allows the micro-UAV to transition from
outdoor navigation to indoor navigation at the touch of a button,
opening up a broad range of applications for these vehicles.
The Hornet Micro UAV, weighing just over 2 lbs, is a helictoper UAV
equipped with a video camera that makes it an ideal platform for
surveillance applications. The ability to fly without the aid of GPS
allows a Hornet Micro operator to investigate under a bridge, inside a
building, or in urban environments where competing products would not be
able to operate.
Founded in 2005, Adaptive Flight, Inc. offers complete guidance
solutions and engineering services for unmanned aerial vehicles,
including a deck-of-cards sized flight computer designed for advanced
flight control. The Hornet Micro and Hornet Mini unmanned systems
provide simple to operate surveillance platforms for both military and
civilian applications.