by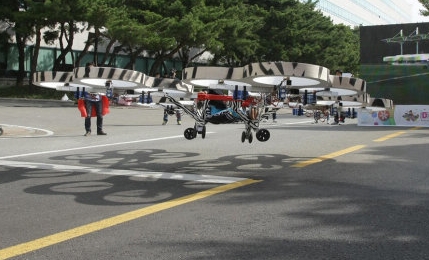 Not many garages would work with Hyundai's hexadecagon. Showcasing  at the 2013 IDEAs festival, the manned 16 rotored multirotor looks rather dodgy! Well done to them though for making it fly. The man in this machine is not actually in control.  The man in the cape is ;-)
Hyundai reveals unique concepts for single-person future mobility, designed for use in congested cities across the globe. Prototypes have been created by engineers working at the company's research and development (R&D) centre in Korea for an internal contest called the 'IDEA festival'.
For the last three years, Hyundai has been organising this internal contest to enhance and expand R&D staff's creativity, and to discover fresh ideas for future mobility. There is always one overriding theme, but there are no boundaries for the ideas. Contestants demonstrate how new thinking can truly create new and innovative possibilities.
Hyundai's engineers submit their ideas, which get evaluated based on creativity, technology, fun and relevance to the theme.