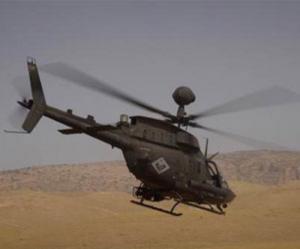 In May 2012, Bell Helicopter, a Textron company, purchased 7 MetaVR visual systems and full sets of North America and Asia Metadesic terrain for an OH-58 Kiowa Warrior simulation facility located in the brand new Manned Unmanned Operations Capability Development Laboratory (MUMO CDL) in Huntsville, AL. The laboratory is adjacent to, and operationally connected to, AAI's Shadow Tactical UAS hardware-in-the-loop system integration lab.
The new laboratory will provide a high-fidelity interoperable MUMO simulation environment to support individual operator requirements for UAS and helicopter mission crew requirements, and extend the future capability of the Kiowa Warrior. The lab's purpose is to support the US Army objectives for manned/unmanned UAS operations by advancing the manned/unmanned capability from inside the helicopter cockpit. Currently, the actual Kiowa Warrior helicopter supports Level of Interoperability (LOI) 2 with UAS platforms control; it can receive UAS payload data and act as a radio relay.
Advancing its capabilities to LOI 3 (control the UAS camera and sensors), and eventually to LOI 4 (control the UAS's flight path and weapon systems) will increase the efficiency and situational awareness of teamed missions and aid the UAS operator. The MUMO simulation lab currently simulates LOI 2 and will be able to eventually prototype increasingly advanced control of a UAS from the helicopter prior to being fielded in real-world systems.
As well, the simulation lab enables significantly lower cost evaluations of existing interoperability capabilities, such as those demonstrated by Manned Unmanned Systems Integration Capability (MUSIC) exercises conducted with live assets. The Kiowa Warrior simulator uses 5 VRSG channels to provide a 245° x 63° FOV out-the-window display, and 2 VRSG channels for onboard sensors or alternatively, 1 channel for onboard sensors and 1 channel for a chase plane (third-person) view.
The MetaVR simulated UAS payload video is streamed with KLV meta data from AAI's co-located lab to the helicopter cockpit to simulate LOI 2 which enables the pilot see the camera payload from the UAV in the helicopter cockpit. MetaVR visuals will be included in a demonstration by Textron at AUSA 2012 Annual Meeting and Exposition, to be held October 22-24, 2012. The demo in Booth #7628 will feature a live collaboration between Bell Helicopter's Kiowa Warrior simulator (located at the new lab in Huntsville, AL) and AAI's UGCS in the Textron booth.