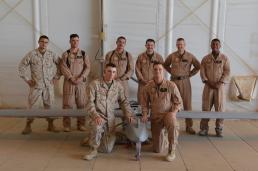 HELMAND PROVINCE, Afghanistan, – As Marines patrol through a village, an ambush can come from any alley or home, but thanks to aerial reconnaissance the Marines at the front can eliminate the threat before insurgents successfully carry out their plans.
One of the squadrons responsible for these flights, Marine Unmanned Aerial Vehicle Squadron 2, 3rd Marine Aircraft Wing (Forward), flew their last RQ-7B Shadow surveillance flight over Helmand province on Aug. 26.
"We are the eyes in the sky," said Cpl. Joshua P. Garcia, an unmanned aerial vehicle operator with VMU-2. "We work hand-in-hand with intelligence units, and anything significant we see we send up."
The information the squadron provides can mean life or death for the guys on the ground. They can see suspicious activity and relay that information, which is vital in a counterinsurgency operation.
"It's important what we do," said Cpl. Paul A. Tepper, a radio operator with VMU-2. "We show convoys what's ahead, and we tell guys on patrol what's around the corner. If I was on the ground, I'd want (a UAV) overhead, so I'd know what to expect."
Marines who work with the UAVs know their efforts pay huge dividends.
"(Working with UAVs) is awesome," said Sgt. Tyler J. Wagers, an imagery analyst with VMU-2. "It's something you see having an immediate impact. We influence decisions on the ground with the (intelligence) we provide them."
Every Marine in the squadron is proud of one another and their accomplishments.
"The Marines have done an outstanding job this deployment," said Lt. Col. Mikael K. Huber, commanding officer, VMU-2. "It has been different because of the change in pace of operations, and the Marines and sailors have been up to the challenge."
The squadron was also responsible for maintenance of the aircraft, but they never delayed and were able to complete all their missions unless something unforeseen happened, said Huber, 41, from Annapolis, Md.
"I couldn't be more proud of the Marines who I've worked with," said Wagers, 29, from Corbin, Ky. "They did a better job than what I expected, but they can multitask and get the job done."
The Marines know their impact was valuable, and they are glad they helped out their fellow Marines on the ground.
"It's a really good feeling," said Garcia, 22, from Bronx, N.Y. "I talked to a few grunts, and they said our birds helped save their lives. It's just a really good feeling knowing you helped save lives."