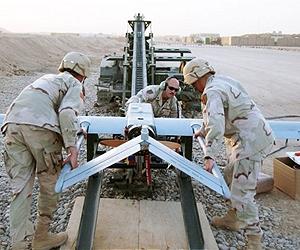 By NICOLE CLARK, Staff Writer
Maryland Army National guardsmen have deployed to Iraq and Afghanistan, where they flew unmanned aircraft that helped them outwit their enemies.
In one incident, guardsmen watched insurgents load improvised explosive devices into two vehicles. "What our guys did was call in an airstrike and they dropped 500-pound bombs on the cars," said spokesman Lt. Col. Charles Kohler. "Who knows how many people they saved by doing that."
But some 15 to 20 Maryland guardsmen have been doing the high-tech maintenance and training for unmanned aircraft work in a tent and in a trailer at Webster Field. Big changes are in the works for the facilities, and those changes will help them do their jobs.
Today, Aug. 29, the Maryland National Guard is scheduled to break ground on a 10,000 square-foot, $4.3 million unmanned aircraft facility. "It's going to be state-of-the-art," Kohler said.
http://www.somdnews.com/article/20120829/NEWS/708299734/1056/expansion-planned-for-uavs-at-webster-field&template=southernMaryland