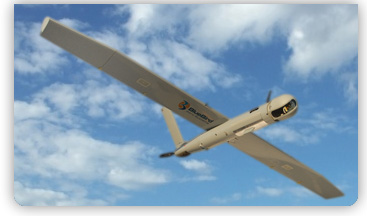 ARIE EGOZI TEL AVIV Flight Global
India is close to purchasing a record number of micro and mini unmanned air systems for its air force and army, with several further major deals to follow.
New Delhi's immediate requirements are aimed at acquiring 100 micro systems for the air force and 20 mini systems for use by the army's northern command, with the selected contractors to be required to transfer at least 30% of the production work to India.
Israeli sources say that within the next three years the Indian defence ministry will stage five additional tenders for the purchase of a combined 600 mini UAS systems to be operated by the air force, infantry and artillery units and the federal police. These deals will be worth a total of $1.25 billion, with all production to be performed in India, the sources add.
Among the Israeli companies pursuing the near-term requirements are BlueBird, offering its Spylite design, Elbit Systems with its Skylark series, and rival firm Innocon.
Multi Configuration Tactical UAS
Reliable visual intelligence in all weather conditions
The SpyLite was designed to supply immediate and independent visual intelligence for the Army, HLS and Civilian markets. It meets the required operational needs for tactical Visual intelligence asset acquisition, providing extended range, enhanced visual intelligence and real time gathering capability in stringent situations.
The SpyLite is specifically designed to allow critical, visual recognition of elements in real-time and gain dominant situational awareness of the inspected area. The system can be carried by 2 operators with the overall weight of
20 Kg for each and It flies in almost any weather condition (up to 40 Knots). The Spylite can be operated in a long endurance mode with longer wing tips and higher capacity battery.