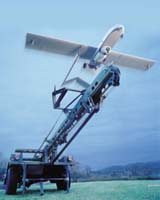 Matthew Hay Brown, The Baltimore Sun
In a cavernous production facility at AAI Unmanned Aircraft Systems in Hunt Valley, workers assemble remote-control planes that help U.S. forces identify enemy targets.
At the Johns Hopkins University Applied Physics Laboratory in Laurel, researchers work to make drones behave like insects, communicating among themselves as they perform a task together. And at Naval Air Station Patuxent River in Southern Maryland, the Navy is testing a new unmanned jet flier designed to take off from and land on aircraft carriers.
Manufacturers such as AAI, Lockheed Martin and others, research at Johns Hopkins, the University of Maryland and elsewhere, and testing at the Patuxent station and Aberdeen Proving Ground have combined to make the state a center of a burgeoning global industry.
"The market is going to grow exponentially," said Mike Hayes, the retired Marine Corps general who heads the state's office of military and federal affairs. "And then, as the [Federal Aviation Administration] comes to grips with airspace issues and safety associated with unmanned systems, the potential for growth is even more dramatic.
"Within Maryland, because of a combination of our universities, our federal installations and then some of the private-sector folks that are already involved, we think we're very well-positioned to participate."
The industry faces challenges. With the United States out of Iraq and drawing forces down in Afghanistan, President Barack Obama has ordered the Pentagon to slow the growth of future spending. Congress is stalemated over a budget deal needed to forestall additional cuts.
http://articles.baltimoresun.com/2012-08-13/news/bs-md-drones-20120813_1_unmanned-aircraft-drones-unmanned-aerial-vehicle