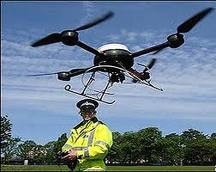 by Jennifer Vogel, Minnesota Public Radio
August 13, 2012
St. Paul, Minn. — If Al Frazier has his way, law enforcement agencies one day will use unmanned aircraft as commonly as their dog patrols and in much the same way–to help officers with everyday policing, whether that means searching a cornfield for fugitives or scoping out a property for hazards before a drug raid.
Frazier, an assistant professor at the University of North Dakota and part time Grand Forks County sheriff's deputy, is on the verge of launching a program that would give sheriffs in 16 North Dakota counties access to two, and perhaps four, drones for uses like those and more.
"This is about safety, not just for officers, but citizens, too," said Frazier, who also ran air support for the police department in Glendale, Cal. "Let's say we have a violent suspect at the end of a pursuit, a robbery suspect who fled from the police. The sooner we take that person into custody, the safer it is for the public."
With law enforcement budgets shrinking, technology is playing a greater role in policing. And for agencies that want air coverage, a camera-equipped drone, at a cost of around $50,000, can be a cheaper alternative to owning and operating a piloted airplane or helicopter. Minnesota law enforcement officials have expressed some interest, but without question, North Dakota is where the action is.
http://minnesota.publicradio.org/display/web/2012/08/02/ground-level-price-of-safety-drones/