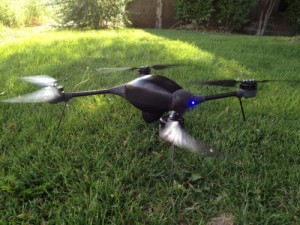 A me too entry from the majors, amazing to see standard old quads rolling out at the show, we were playing with these six years ago! Many hundreds fly in homebuilt hands worldwide, it will be very hard to make a high dollar case for this type of airframe.
Lockheed Martin Procerus Technologies' new small vertical take-off and landing (VTOL) unmanned aircraft system gives warfighters, first responders and others in small, cluttered, urban environments an eye-in-the-sky in just minutes.
The rugged, five-pound VTOL quad rotor, dual-sensor platform features an extended hover, perch and stare capability that provides military, civil and commercial customers with aerial reconnaissance in crowded areas unreachable by fixed-wing unmanned aircraft systems. The VTOL's gimbal mount includes electro-optical and infrared sensors and a laser illuminator to provide continuous 360-degree panning capability.