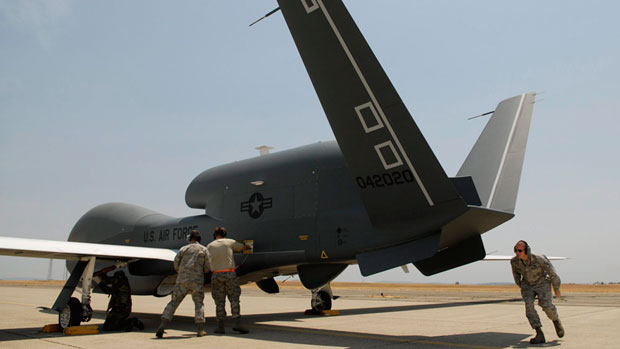 By John Nolan
Staff Writer
DAYTON — Efforts to demonstrate that unmanned aircraft can be flown safely in airspace used by manned airplanes could get an important boost with test flights scheduled this fall, a conference of unmanned aircraft industry officials was told Tuesday.
The Air Force and the Navy, working with different variations of the Global Hawk remotely piloted plane, plan the test flights to demonstrate that electronic "sense and avoid" technology can allow the unmanned aircraft to "see" an oncoming plane and automatically change course to avoid collisions, said Joe Sciabica, executive director of the Air Force Research Laboratory.
Sciabica and other officials from government and industry addressed a Dayton Development Coalition-organized conference on unmanned aerial systems, which are the unmanned aircraft and their sensor systems. Organizers of the two-day conference, which began Tuesday at Sinclair Community College, hope to make it an annual event.
Community leaders are trying to develop the Dayton region as a nationally recognized center of unmanned aircraft research, training and manufacturing expertise, hoping that it will attract business investment and new jobs. Local universities and colleges already support advanced manufacturing and sensors research, along with training in operation of unmanned aircraft.
http://www.daytondailynews.com/news/business/global-hawk-test-flights-to-demonstrate-safety-p-1/nMzxQ/?goback=%2Enmp_*1_*1_*1_*1_*1_*1_*1_*1_*1%2Eanb_4554840_*2_*1_*1_*1_*1_*1