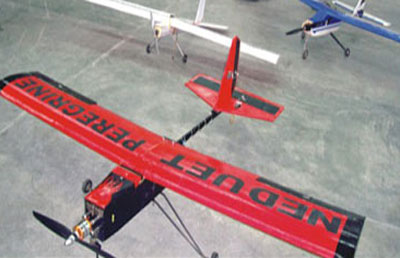 Karachi: On the one hand Pakistanis are protesting against US drone strikes that led to killing of thousands of people in country's northwestern tribal region near Afghan border during the decade long US war against terror while on the other side Pakistani students are testing their skills in developing the unmanned aircraft.
A group of NED University has manufactured an unmanned aircraft  "PEREGRINE" under the supervision of Umair bin Asim, a lecturer in university. The remote-controlled unmanned aircraft could fly 250 feet altitude.
The PEREGRINE secured third position in a competition held by the Ghulam Ishaq Khan where 35 such planes were put on exhibition.
Team leader Khali bin Nofil told an Urdu language daily that the plane could be used for reconnaissance and defence purposes as well as it would prove effective during natural disasters like floods and earthquakes.
"We can install a camera in the plane if government supports us," he added.
http://www.thenewstribe.com/2012/07/17/drone-age-pakistans-ned-students-manufacture-unmanned-aircraft/#.UAZYu7TrqbU