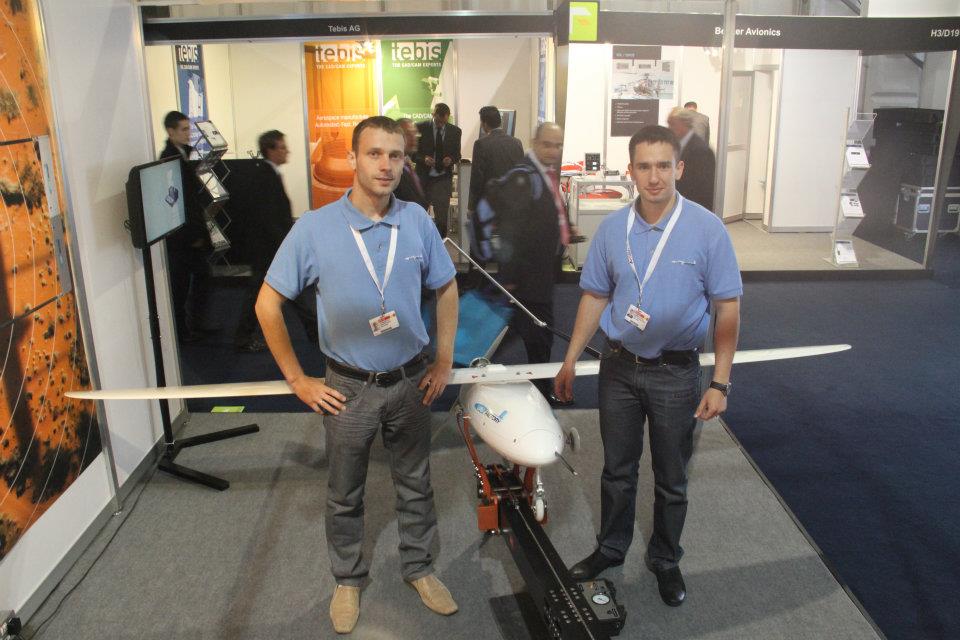 Its show time in Farnborough this week, and what a show it is – The centre piece for all things unmanned is the unmanned systems showcase. Located in hall 3, it features an enclosed demo area for demonstration of flying and ground systems and an advice clinic providing information for exhibitors and visitors on accreditation, insurance and regulatory compliance.
During our visit, there was definitely a strong buzz of activity and excitement throughout the unmanned systems showcase. Amongst those exhibiting are UAV Factory from Latvia with an impressive stand featuring the Penguin-B mounted on their pneumatic catapult, Alpi Aviation from Italy exhibiting the Strix and performing several very exciting demonstrations of their Sixton-A in the demo enclosure throughout the day, and Blue Bear Systems Research from the UK exhibiting their Blackstart and iSTART UAV systems, amongst other noteworthy participants including Insitu and AUVSI.
Elsewhere around the Farnborough exhibition halls, there were several other organisations exhibiting their unmanned systems including Selex Galileo which have two Felco UAVs on display, Turkish Aerospace Industries (TAI) which have a scale model of the Anka at their stand, and AVAANA from India exhibiting the WaveSight UAV on a launcher and a quadcopter. There is also a British Army Watchkeeper UAV outside the Thales pavilion which shouldn't be missed.