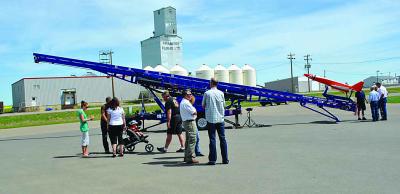 Jamie Rieger
Bow Island Commentator
Representatives from Canadian Centre for Unmanned Vehicle Systems and Meggitt Canada were in Foremost on Thursday to provide an information session on the unmanned aircraft system initiative being proposed for the area.
CCUVS received approval from Transport Canada in June to proceed. A proposal for restricted airspace is being put in place for the development of a facility that would allow commercial and civil testing of unmanned aircraft systems.
Retired Canadian Air Force colonel, Bill Werny has spent the past decade working with UAVs and with economic development agencies, such as Palliser Economic Partnership and the Economic Development Alliance of Southeast Alberta in creating the Canadian Centre for Unmanned Vehicle Systems and was in Foremost on Thursday for the information session.
"Transport Canada is working with industry to work on rules that will apply to these types of vehicles. All industry that would use UAV are very keen to get involved. Transport Canada has now directed us to create a restricted airspace and that means to avoid it only when there is a testing activity going on," said Werny.
"Everything is being done under the watchful eye of Transport Canada, which has approved our Concept and we got approval to proceed. We are now meeting with NAV Canada to determine the size and dimensions of what the airspace should look like. This is on the leading edge for Canada and the world and it is good to have support from the regulatory bodies and we can grow it in a very structured manner," said Werny.
http://www.medicinehatnews.com/local-news/ccuvs-meggitt-in-foremost-to-talk-airspace-07062012.html