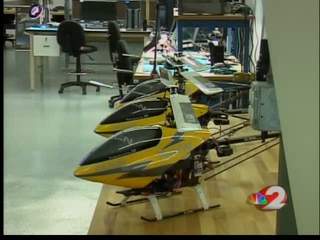 FAIRBORN, Ohio (WDTN) – Dayton, Springfield and Wilmington team up to convince federal officials this region is the perfect place to build and test drones.
The financial impact of the growing demand for unmanned aerial vehicles, or UAVs, is staggering.
We've seen data from the Thiel group that suggests 94 billion by 2020 internationally."
Joe Zeis, Executive Vice President of the Dayton Development Coalition, and Ohio's leading authority on UAV testing, says the FAA is looking to create six UAV test sites in the U.S.
Wright-Patt is in contention as the FAA has said before these un-piloted aircraft can be integrated into American air space, they must first have the ability to sense and avoid each other, technology that Zeis says already exists at the base at the Air Force Research Laboratories and the Aeronautical Systems Center.
"That's an asset that's unmatched in the United States right now," said Zeis.
To sweeten the deal, Springfield City Manager, Jim Bodenmiller, says the city along with state is investing 2.3 million dollars to build five climate-controlled hangars.
"We think that we are an ideal little triangle for flight testing. You've got Wright-Patterson, Springfield and Wilmington."
The hangars are part of a strategy that will partner the Springfield Air National Guard Base with the Wilmington Air Park to provide a unique site for UAV testing.
"Springfield has the Air National Guard Base who if you recall has a UAV mission right now, they are operating unmanned vehicles over in the theatre."
Maurice McDonald, Vice President of Military Affairs for the DDC, says the location is ideal.
"They need to build and to do testing in an all environment situation, so the weather conditions that we have in Ohio from winter to summer to spring actually is a benefit to them and the hangar space where they can go indoors when they need to do to do different types of testing.. that is significant," said McDonald.
"Our location to Wright Patterson, our high-speed fiber connectivity. All those things rolled together make us an ideal solution and the fact that we have an industrial park right next to the airport," said Zeis.
"The military industry actually started getting this integrated national air space going but the commercial industry is the next step that's where are focus is going to be," said McDonald.
That's why their long term goals are to secure air space in Ohio for testing, build a test center for research and development which will eventually become an educational and training facility for the FAA and NASA.
"We're wanting to drive to a goal where we can do research and development test and evaluation manufacturing and operation of UAVs in the Ohio area primarily in the Dayton region. Springfield and Wilmington are keys to being able to meet those accomplishments," said McDonald.
The FAA is expected to make its decision on the six test sites by the end of the year.
http://www.wdtn.com/dpp/news/local/greene_county/attracting-uavs-to-miami-valley-skies#.T-WTabXroYk