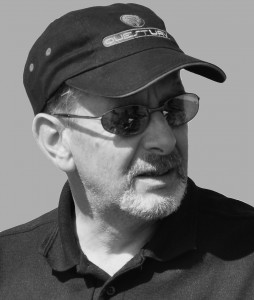 Ex-RAF pilot and now director of a high flying company manufacturing Unmanned Aircraft (drones) for universities and research companies, Nigel King, has recently been awarded the highest accolade from the British Institute of Professional Photographers (BIPP). The Fox Talbot Award is the premier photographic award of the BIPP and it is only awarded under exceptional circumstances. It has only been awarded twice since 2007.
The award is given to photographers who have made an outstanding achievement in the field of photography and have pioneered new methods or equipment that have made significant advances in photography. Nigel King has done all of these through the development of unmanned aircraft otherwise known as UAVs. Research companies and universities around the world are using his small aircraft that have been designed almost entirely by himself. Currently two of his drones are flying at an incredible 10000 ft in Chile's Atacama Desert on a NASA funded project designed to develop navigation software for the next generation Mars Rover.
Nigel has pioneered the fourth generation of electric powered UAVs where end users can master very high-resolution large-scale maps with simple, easy to use systems. His ultimate goal is to reduce the costs of small UAVs, which generally cost tens of thousands of pounds, to something much less that can be used and distributed for humanitarian needs and can be easily operated by a semi skilled person. His company is working on sensors that have a huge range of applications such as Narrow Band Infra Red Imagery (multispectral) for agricultural uses such as spotting tree disease, crop health and ideal time to harvest a crop. Forestry work in Finland, Swiss train surveys, Antarctic Ice studies, ultra low level Meteorological weather studies, three dimensional archeological surveys and atmospheric plume (volcanic) sampling are just some of the other applications he is working on. Of huge interest to his company though are the possible applications in land mine clearance in countries such as Cambodia and Angola, and crop improvement in developing world countries and the improvement of fresh water sourcing.
Nigel says, "This is the right time for non-military use of UAVs. In the right hands and with the right intention they have such huge potential for improving quality of life and reducing costs of otherwise expensive aerial surveys. The ability to cover a large area safely, and have the aircraft do virtually all the work means that we are now on the verge of allowing developing world communities to truly benefit from the development of this technology. With the right investment, the next few years could be truly groundbreaking".
Nigel started on his current business three years ago after leading a university project with a Canadian UAV. Disappointed by the results it gave he set about learning every discipline possible and started building his own with the aim of achieving a single operator, robust, complete package that anyone could safely use with the minimum of training. The successes didn't come easily though and there were huge challenges to overcome, including stringent regulations from the Civil Aviation Authority. His company has overcome almost all the hurdles and now offers a comprehensive package of training and equipment, with a very clear focus on correct use and public safety.
Nigel lives in the North East of England with his wife, Helen and runs his company, QuestUAV, from his local town in Amble.