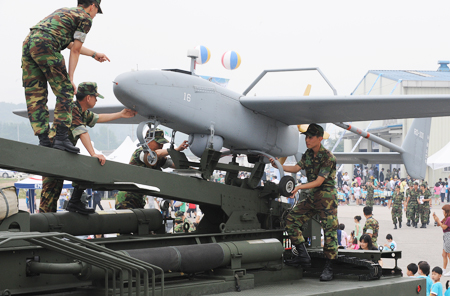 By Kim Tae-gyu
Korea's two major players in the aerospace industry are pitted against each other for a government order to build unmanned aerial vehicles (UAVs).
The Defense Acquisition Program Administration (DAPA) will accept bids for its UAV program later this month under which the winner will be provided 100 billion won over the next five years.
Korean Air (KAL), the nation's flagship carrier, and Korea Aerospace Industries (KAI) are expected to stage a fierce competition to win the contract, which experts say would involve more than the immediate amount of money announced.
As people become more wary of human casualties, the military has no choice but to increase its reliance on unmanned operations with UAVs,'' a source familiar with the issue said.
In other words, the 100 billion won contract is merely a starting point. Whoever wins is expected to see follow-up deals from the military, predicted to be much bigger.
http://www.koreatimes.co.kr/www/news/biz/2012/05/123_110900.html